D - Reviews
This is the page for reviews of books, videos, trips, etc connected with branch lines or railways in general.
If you have a review to submit for this page, contact us here.
Please note reviews of journeys along branch lines will be put on that branch line's page.
---
The Next Station Stop by Peter Caton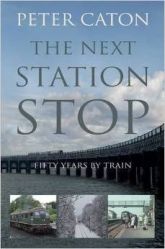 As someone who has travelled extensively on Britain's railway network for work and for pleasure, I found this book both interesting and enjoyable. The author, Peter Caton has walked a fine line between keeping the railway enthusiasts happy on one side, and the casual train traveller on the other. He seems to have achieved it with this book, managing to add the odd historical anecdote along the way.
The main premise of the book is comparing train journeys he made as a child in the sixties and seventies, with those he makes with his work in more recent years. He is not afraid to put forward his views on such train related subjects as ever increasing train speeds, on board catering, train announcements and anti-social passengers. There are a few extra chapters at the end where he has ventured into Europe by train. These are also compared with Britain's present railways.
All in all an intriguing read, with plenty to amuse, entertain and interest the reader; all written in a clear and concise style, Plus, there are several colour photos showing trains and stations from his younger days, which are compared with their modern equivalent.
Book Review
Branch Line Britain by Paul Atterbury (Published by David & Charles)
Paul Atterbury has produced the ultimate book on branch lines. Not only is the text informative and a delight to read, but also it is backed up by a wealth of excellent illustrations. The publishers have gone to town in providing many colour photos of branch line stations and traction from fifty and even sixty odd years ago. These are backed up with many original tickets, posters and postcards from a bygone era, all of which help to bring the text to life.
Over sixty branch lines are covered, from all parts of the country. These are split into three different categories. Firstly those which are still operating on the current railway network; secondly those which are in operation as heritage lines; and thirdly those that have sadly disappeared from the landscape altogether. Indeed there are photos of mounds in fields that once carried a branch line across the countryside. There's also several extra sections on such things as railcars, camping cars and seaside postcards, which all help to bring the past to life. This is a book well worth having in your collection, not just for the railway nostalgia, but also the valuable social history it covers. MC
---
Book Review
National Rail Timetable (20th May to 8th December 2007)
This is billed as the "Final Printed Edition" ever, though already one or two other publishers are looking at the possibility of filling the future gap in the market that this will bring. For example, Middleton Press have brought out their UK Rail Guide which publishes the majority of timetables in the NRT.
The main problem with a printed timetable for the whole of the network is the sheer number of pages involved, coupled with the cost of putting it together. Why at over 3,000 pages that's more than the Bible and Lord of the Rings put together! With sales falling from a 100,00 peak to a low of 20,000 it's easy to understand why this well be the last complete printed timetable. Plus with the Internet, you just look up your timetable in the click of a mouse.
Personally I prefer a hands-on timetable which I can browse through at my leisure. It may become a bit dog-eared after a few months, but that's the joy of having an information book in your hands - you can move from one page to another to your heart's delight. Plus there's no pdf file to load up on your PC, which you then have to make bigger to actually read it.
The NRT come complete with a detailed map - always useful for journey planning, plus an eleven-page supplement of alterations/mistakes, which came to light after the volume had gone to press. One thing that isn't mentioned in the supplement which the proof reader's missed is that the North London line now terminates at Stratford and not North Woolwich as Table 59 erroneously states! That apart it's a useful tool when planning journeys in advance. Give me a timetable in book form any day, rather than pdf files, even if it is over 3,000 pages long. MC
---