Blog - 2010
January 2010
3/1/10 - Leigh-on-Sea to London Fenchurch Street and return. London St Pancras to East Midlands Airport Parkway. Nottingham to London St Pancras (diverted via Erewash Valley Line).
My first railway outing of 2010, with the intention of going to the Notts County vs Forest Green Rovers FA Cup 3rd Round Match. But when I got the ground at 2.30pm, the game had been called off. Still I managed to ride on the whole of the Nottingham Tramway route on a very cold day.

18/1/10 - Leigh-on-Sea to London Fenchurch Street. Kensington Olympia to Wandsworth Road. Wandsworth Road to London Victoria. London Victoria to Sutton and return.
Used a visit to a friend in Sutton to take a ride on the once a day Southern service to Wandsworth Road from Kensington Olympia which went on some rare lines east of Clapham Junction.
27/1/10 - Leigh-on-Sea to London Fenchurch Street. London St Pancras International to Gravesend. Gravesend to Stratford International. West Ham to Leigh-on-Sea.
Made this journey specifically to go on the short line from Ebbsfleet International to the North Kent Line, just west of Gravesend. My return ticket from St Pancras cost £13.30 and just like my journey to Ashford in December, the train was virtually empty. When I got off the train at Gravesend, I counted no more than twelve people on the train, which was going to Faversham. The actual curve to the Gravesend line from High Speed 1 actually leaves it just before Ebbsfleet station, so there are in effect two Ebbsfleet stations - joined by a subway. This is where the overhead pantograph comes down and the conductor to the third rail is connected. Also I was impressed with how smooth the whole journey was and why all the trains have ticket guards considering there are ticket barriers on all the stations. As we came into Gravesend the Javelin going to London was just leaving, so it was a half hour wait for the next one. I could have got an ordinary South Eastern train into Charing Cross if wanted, but chose to go back on the Javelin, but get off at Stratford. At Stratford International you come out of the station and straight onto a shuttle bus, which more or less leaves straight away. The whole area is one large building site and the bus goes all round the houses through checkpoints to Stratford Overground station. It's a journey that would probably take only about five minutes if the connecting walkway was finished. We are deposited at Platform 11 of Stratford Overground and walk straight into the station. I then get the Jubilee line to West Ham and pick up the 12.10 from Fenchurch Street, which is roughly the time I would be arriving at St Pancras if I'd stayed on my Javelin.

30/1/10 Leigh-on-Sea to Fenchurch Street and return. London Paddington to Cardiff Central and return
Went to Cardiff for the day to see the Cardiff versus Doncaster match. The train fare was £25 each way but coming back I paid an extra fiver so I could go in first class. The day started off with a bit of a panic. When they announced at Leigh-on-Sea that my train to London would leave from a different platform than usual, I guessed that something was up. After waiting a couple of minutes the driver announced that due to a broken rail ahead we would be waiting another five minutes for a train to come the other way and so give us clear track to go on the other railway line. In fact two trains came in on the other platform before we got the go ahead.
Consequently we arrived at Fenchurch Street ten minutes late, giving me fifty minutes to get across London to Paddington. Plenty of time, you might think, but once again the Circle, District and Metropolitan Lines were all closed. So It was either go to Bank and get a Central Line tube to Oxford Circus and change onto a Bakerloo Line train to Paddington. Or go to Liverpool Street and get a Hammersmith and City Line train straight through to Paddington. I chose the latter, and still arrived at Paddington twenty minutes before my train to Swansea was due to leave. In the end it left a few minutes late, but was bang on time at Cardiff.
Coming back, I left the ground as soon as the final whistle went and walked briskly all the way back to Cardiff Central to catch the 17.25 train back to London. It took me about twenty minutes so I had time to buy a drink and take some photos of local trains. I could have caught the 17.15 train from Ninian Park which was due to arrive at Cardiff Central five minutes later, but wasn't prepared to take the risk. The train was pretty empty, as most long distance trains are on a Saturday evening. In first class I had the whole carriage to myself apart from a Doncaster fan, who was going back to Yorkshire via King's Cross. The only problem was his train was due to leave King's Cross at 8.00pm and our train was twenty minutes late in to Paddington at 7.50pm, due to being held up outside Didcot for fifteen minutes. We then had to travel on the slow line back to London. I wonder if he made it?
---
February 2010
11/2/10 - Leigh-on-Sea to West Ham. Stratford to Richmond. Richmond to Clapham Junction. Clapham Junction to Willesden Junction. Willesden Junction to Gospel Oak. Gospel Oak to Barking. Barking to Leigh-on-Sea.
After two years decided to take another ride on the North London Line before it shuts down next week for engineering works between Gospel Oak and Stratford. I also wanted to try out the new Class 378's which have replaced the tired and worn out Class 150's, which still ply the Goblin line. How disappointed I was! They look impressive from the outside with their white, orange and blue liveries, but inside it's a different story. They've been designed like a tube train with all the seats being sideways, backing onto the widows in a single line. There's more standing room, as I suppose the powers that be thought most passengers wouldn't be travelling that far, unlike me whose going the whole hog. In fact I have to stand all the way from Stratford to Highbury and Islington, before I can get a seat. Then it's a constant straining of your neck so you can see where you are going. The stations which are busiest are Hackney Central, Darlston Kingsland and Highbury and Islington. In fact after this last station, the train seems to more or less empty with each station it stops at, so that by the time we arrive at Richmond, there are only ten people on board.
I come back via Clapham Junction, Willesden Junction and Gospel Oak, changing onto a Goblin Line train. How nice to be facing the way you are going. I think TFL or whoever ordered these carriages has made a big mistake and they won't be popular with passengers.
13/2/10 - Leigh-on-Sea to Fenchurch Street via Grays and return. London St Pancras to Derby and return.
Went up to Derby for the day to see Derby County play Birmingham City in the FA Cup. As usual there were several underground lines closed and my journey across London was not straightforward. There was also engineering work between Upminster and Barking so trains to London were routed via Grays on the original LTS route. Some went non stop to Grays from Pitsea and then non-stop from Grays to Barking. C2c sensibly put eight cars on all the trains. The journey to and from Derby went OK with everything running smoothly.
24/2/10 - Leigh-on-Sea to Fenchurch Street and return. London Paddington to Gerrards Cross. Gerrards Cross to London Marylebone.
Had to go up to London for a course in the afternoon, but decided to go on the newish Chiltern "Ghost train" from Paddington to Gerrards Cross for research into an article I am writing for Railway Magazine. Surprisingly there were three other passengers on the train, which leaves Paddington at 11.36 each weekday morning, having come ECS from Wembley.
---
March 2010
6/3/10 Leigh-on-Sea to London Fenchurch Street and return. London Kings Cross to Darlington. Darlington to Middlesborough. Middlesborough to Hartlepool. Hartlepool to London Kings Cross.
Went up to Hartlepool to see Southend lose 3-0 to Hartlepool. Went on the 10.00am Flying Scotsman from Kings Cross which was very full. For once I actually got a seat facing forwards, on a table, by a window. Most of my journey northwards was spent chatting to a lovely couple from Newcastle who had been to a concert in London the previous night. I could have got a Grand Central train straight through to Hartlepool going north, leaving Kings Cross at 11.30, but it didn't arrive in Hartlepool until 2.50pm, which was cutting it a bit fine. So to get to Hartlepool in good time, meant either changing at York and Middlesborough, or changing at Darlington and Middlesborough. I chose the latter, and got an earlier train out of Darlington, which meant a walk round the shops in Middlesborough for half an hour before my hourly train to Hartlepool and beyond left.
There were seven Southend fans on my train into Hartlepool, and at least twenty coming back on the Grand Central train. I like the idea of chess and Monopoly boards on the tables to pass the time, but one criticism I have of them is that the tables are too narrow and thus a few inches away from your seat, which gave me back ache as I typed this up on my way back. Incidentally the train was deserted - no more than a handful of passengers had got on at Sunderland. More did get on at York, but the train was still about a quarter full. A lady came round with a questionnaire for all the passengers to fill in, so I referred to the thinness of the tables in the extra comments section. On the plus side we did arrive at Kings Cross about five minutes early. At £36 for a single from Hartlepool to London Off-Peak on a saturday evening, maybe Grand Central could take a leaf out of Wrexham & Shropshire, who offer an Off Peak fare of £10 on their trains. Even if it was £20, Grand Central trains might be a lttler fuller.

17/3/10 Leigh-on-Sea to London Fenchurch Street. London Kings Cross to Darlington. Darlington to Middlesborough. Middlesborough to Hartlepool. Hartlepool to Newcastle.
18/3/10 Newcastle to London Kings Cross. London Fenchurch Street to Leigh-on-Sea.
A case of deja-vu from ten days ago. Not only did I go on the same route, but also the same timed trains. This time I was going to Hartlepool with my work. Afterwards I then caught the train from Hartlepool to Newcastle, where I went to see Newcastle United play against Scunthorpe United. I came back direct from Newcastle, though my train was delayed by signal problems in the Thirsk area and we arrived about fifteen minutes late into Kings Cross. At least my reserved seats were actually facing forward for both days.
27/3/10 Leigh-on-Sea to London Fenchurch Street. London St Pancras to Nottingham and return.
After a failed attempt in the snows of January I'm off to Nottingham again to see Notts County play Rotherham in a top of the Fourth Division clash. The train I get at St Pancras is an old HST with no plug sockets. Once again my reserved seat is facing backwards, so I move to Coach A where there are plenty of free seats. It's meant to be a quiet coach, but two women are on their phones for part of the journey. When are they going to bring in that stuff they put on the windows to cut out the phone signals?
The journey from London to Nottingham seemed to go off quite quickly compared to January's. This time we didn't stop at every station possible, though we kept slowing almost to s stop outside some of the bigger stations, like Bedford and Wellingborough. The worst indignity was being overtaken by a Freightliner Heavy Haul freight train just south of Wellingborough! Mind you we caught it up about five miles further on. By the time we got to Leicester we were about ten minutes late, and our arrival into Nottingham was almost fifteen minutes late, though there was no apology or explanation from the train manager,
Coming back the train did stop everywhere - Beeston, Loughborough, Leicester, Market Harborough, Kettering, Wellingborough, Bedford and finally Luton Airport Parkway. We arrived at St Pancras about five minutes early, so in spite of all the stops, we still did good time.
---
April 2010
3/4/10 - Leigh-on-Sea to London Fenchurch Street and return. London Paddington to Newton Abbot and return. Newton Abbot to Paignton. Torre to Newton Abbot.
Went down to Torquay for the day to see Torquay United beat Shrewsbury Town 2-1. All went well connection wise. Going I got the 10.06 Cornish Riviera Express from Paddinton as far as Newton Abbot. Virtually every seat was reserved, yet once the train left Paddington, at least half of the seats were not filled!. So I moved from a double seat with not much room to a table seat with plenty of room. It should have been used by four people going from Paddington to St Erth, but they didn't show. At Newton Abbot I was meant to have a twenty minute wait, but the train before was delayed so I got that, but it was truly full to overflowing. I had to stand in the centre aisle as far as Torquay before it emptied. Coming back I got on at Torre station, which has been repainted and restored, though there was not ticket office or waiting room. Going down to Devon the journey took only 2 hours 20 minutes, just stopping at Reading and Exeter, but coming back it was just under 3 hours. We stopped at Exeter, Tiverton Parkway, Taunton, Castle Cary, Westbury, Newbury and Reading.
6/4/10 Keighley to Oxenhope and return
On holiday in Yorkshire and managed to fit in a trip on the Keighley & Worth Valley railway. It was the first time I had been on this preserved railway since the 1970s. The main thing I noticed was that it wasn't as long as I thought it was, with the length of line coming in at just under five miles. Also it was a lot more industrialised than I thought with many old mills still in existence on the line and only short views of the countryside, unlike the impression given in the film, "The Railway Children". Finally, I am intrigued to know why the line is decked out in London Midland Region livery, when I thought the line was in the Eastern Region. Still it was a pleasant trip to Oxenhope, where we were able to visit the museum for free which contained several steam locos and preserved carriages. I didn't see any sign of diesels though.

10/4/10 Rayleigh to London Liverpool Street and return. London Kings Cross to Darlington and return.
This was a day trip to Darlington to see Darlington stave off relegation for another game. As there were no trains between Southend Central and Pitsea - only a bus service - I went into London from Rayleigh instead. My Travel card ticket was a little more expensive though at £10.85, but the journey was quicker at 40 minutes. At Kings Cross I got the 10.20 train, which was going all the way to Inverness and was full to overflowing as it was the only through train for the next hour. All other services were First Capital Connect to Peterborough and then change there, so I paid over the odds to get a through train. The only problem was that it was the train journey from hell with two naughty and spoilt children behind me arguing and crying all the way to York, the first stop. Plus as usual I was given a backward facing seat and as there were no free seats, I had to put up with that seat all the way to Darlington. The journey to York took over three hours due to engineering work between Stevenage and Hitchin.
When we got to Stevenage we stopped at the station for a couple of minutes as the guard had warned us, and then we moved off. I mistakenly thought that maybe the journey might be quicker than stated, but we only got a few hundred yards outside the station, before we stopped again. This time we went backwards, (or forwards in my case) and onto another line and back into Stevenage station! We then waited in the station for ten minutes before we set off again.
We went quite slow at first travelling along the down slow line, stopping and starting all the way to Hitchin station. We the waited another fifteen minutes here before we set off again. We stayed on the up slow line for a couple of miles before we moved over to the down slow line going about 40 mph until we came to a crossover at Biggleswade and moved back onto the down fast and continued on our way. The guard announced that we were now clear of the engineering works and were in fact twelve minutes ahead of schedule! Whether we would make it to York early is another matter, as when we got to Peterborough, we stopped in a through track in the middle of the station. The guard then informed us that as we were ten minutes early, we would have to wait another ten minutes until the trains scheduled to depart before us had left! In the end we only waited about five minutes before we left ahead of a Hull Trains and a Grand Central train parked in the station.
We seemed to be doing fine, until we got to Colton Junction just before York, where we had to wait at least ten minutes, first for a Trans Pennine train going to Scarborough and the a Class 47 Colas pulling some Grand Central carriages. This was waiting in the station, when we got there, so why it couldn't have waited for our Inverness "Express" is anybody's guess. Consequently we were about eight minutes leaving York, but the driver pulled back six minutes by the time we arrived in Darlington.
Coming back was a much quicker journey with more seats available. The only incident of note was that York was the last stop before Kings Cross and the guard found an elderly couple who thought the train was going to stop at Doncaster. In the end, the train made an unscheduled stop at Newark to let them off.

14/4/10 Leigh-on-Sea to London Fenchurch Street. London Paddington to Exeter St Davids. Exeter St Davids to Exeter Central. Exeter Central to Exmouth and return.
Another journey down to the West Country in the space of ten days. Again I get I train that is going all the way to Penzance and again virtually every seat is taken. This time I am given a forward facing seat, though it doesn't have a table, so I sit at a table seat as far as reading. Then I have to move back to my cramped seat, especially with the size of my laptop! Again I have to put up with screaming and crying children, although I'm meant to be in a quiet carriage. An old lady even complains about it to the guard when he comes round. But eventually we get there and I catch another train to Exeter Central, which looks like it has seen much better days. I then do my work in Exeter before checking into my hotel for the evening. I then walk to Exeter Central and take a trip for the first time to Exmouth and back, walking round this small seaside town for a while. It's quite a busy line and Lympstone Commando station is fascinating, with its armed sentry right next to the platform and no one allowed to get off the train unless they are connected with the army base which it serves!

15/4/10 Exeter St Davids to Barnstaple. Exeter St Davids to London Waterloo. London Fenchurch Street to Leigh-on-Sea.
The day started off fine with a lovely trip up to Barnstaple on a new branch for me. I was on a Class 140? with plenty of seats and a table for me. It was a pleasant journey with lovely scenery and seeing a part of Devon I hadn't been to since i was a child. Once we arrived at Barnstaple, rather than get the train straight back, I decided to walk over the bridge and go round Barnstaple for an hour before making my way back to the station and getting the next train back to Exeter. However I was having such a good time that I realised that I only had less than fifteen minutes to get back to the station. The problem was that my sense of direction let me down and I ended going in the wrong direction to the station. In the end I caught a taxi and just as I was getting out of the cab my train was pulling out of the station! I'm sure it has happened to many of you reading this, but I needed to get that train back to Exeter to get my train back to London.
Luckily the taxi driver (from the firm Jay's Taxis - worth using if you're ever in Barnstaple) was understanding. He said he would try and catch up the train for me or even take me back to Exeter for £55 maximum. The only problem was that he couldn't accept cards, so he drove me to a service station where I was able to get some cash out to pay him.
So off we went charging down the A377 through the Devon countryside. He even phoned his partner to find the times the train would be at a certain station. As the train had a ten minute start on us and we got stuck behind slower traffic, we ended up going the whole way to Exeter! I'm not one for getting travel sick, but with all the bends on the roads and the constant slowing and accelerating, I began to feel ravel sick by halfway. How I kept it all down I'll never know, but as soon as I got onto Exeter St Davids station, I went straight to the gents!
Anyway the taxi driver kept his promise and got me to Exeter in time to catch my South West Trains train to London Waterloo. I chose to go back that way as it was a line I hadn't been on since the 1980's and was only £20 single all the way from Exeter to London, a lot less than First Great Western, but also a lot slower, though that didn't bother me. The train hadn't been cleaned so there were crisp packets, drinks cans, bottles and newspapers still on the tables. A shame that South West Trains don't bother to clear up after such a long journey. A cleaner did come along with a plastic bag later on in the journey, but not a pleasant experience for passengers using this line.
The other sad thing about this line as far as Salisbury is the fact that it is mainly single track, thus limiting the amount of trains using the line and keeping speeds down. It's the result of some bureaucrat at British Rail in the 1970's making sure that the Western Region as opposed to the Southern Region was the main route from London to Exeter, so I am led to believe. One jewel in the crown on this route is Salisbury station, which still maintains a large station look about it and has a half hourly service to London.

22/4/10 Leigh-on-Sea to London Fenchurch Street London St Pancras to Sheffield. Sheffield to Stockport. Stockport to Davenport. Davenport to Manchester Piccadilly and return. Manchester Piccadilly to Huddersfield and return.

As part of my job I'm off to the North West of England for a few days - via Sheffield to begin with. I'm also due to go to the Burnley vs Liverpool match, which is now on Sunday, after being put back a day due to Liverpool playing the previous Thursday. So I'm staying up in the North West and going to the Preston vs Leicester match on the Saturday, after covering some more minor lines in Lancashire. The journey to Sheffield passes without any problems. Once in Sheffield I then take a tram out to where I am working and then back to the station. I then get an East Midlands train across the Pennines to Stockport via the Disley tunnel. Although I had travelled this line in the other direction on a rail tour a couple of years ago, this time I noticed how beautiful the scenery is on this journey. Once in Stockport I buy a North West Rover ticket for £50 which will cover all my rail travel for the next few days. I then go on a train back the way I have come for just one stop to Davenport where I am staying. After checking in at my hotel I go back to the station and go into Manchester, where I start using my rover ticket and take a train to Huddersfield, going back across the Pennines! It's another line I haven't been along for several years and once again the scenery is very beautiful on a spring evening. I then have a nice meal in the station buffet at Huddersfield station, before coming back across the Pennines to Manchester and Stockport..


23/4/10 Davenport to Stockport. Stockport to Stalybridge. Stalybridge to Manchester Victoria. Manchester Victoria to Bolton. Bolton to Wigan Wallgate. Wigan North Western to Warrington Bank Quay. Warrington Bank Quay to Helsby. Helsby to Ellesmere Port. Ellesmere Port to Hooton. Hooton to Chester.

I have to make visits to both Bolton and Warrington today, but fist travel on the "Stalybridge Pullman" also known as the 09.22 from Stockport to Stalybridge via South Reddish and Denton. I last travelled on it just over a year ago, with two other passengers. This time there's five passengers and I chat to the guard about the line as part of my research for a Railway magazine article I am doing on Ghost Trains like this. The rest of the day goes smoothly with me catching my connections, though it was a bit of a rush to catch the train at Warrington Bank Quay. The line from Helsby to Ellesmere Port is one I haven't been on since the early seventies and it is now another ghost train service with just three trains a day in each direction. Ellesmere Port station looks run down, but Hooton station has been given a new lease of life with a ticket office cum shop in its main station building. I'm also happy to report that at Chester station, they are finally renovating the station and those dreadful men's toilets!


24/4/10 Chester to Liverpool Central. Liverpool Central to Southport. Southport to Wigan Wallgate. Wigan Wallgate to Kirkby. Kirkby to Sandhills. Sandhills to Ormskirk. Ormskirk to Preston. Preston to Warrington Bank Quay. Warrington Bank Quay to Chester.

I should have been going to see Burnley play Liverpool today, but it was put back a day, so instead I go to the Preston vs Leicester game, via the railway lines outwards from Liverpool, which I had planned to do anyway. The first leg was a slow journey from Chester into Liverpool. There's three more stops now than when I used to travel on it as a schoolboy and it seems to go on forever. Liverpool to Southport was quite enjoyable, ranging from docklands with decaying industrial landscapes, through to sand dunes and woodlands. Southport station is an architectural marvel, though sadly there is a tacky buffet and newsagents by the entrance. Then it's over to Wigan and back down into Liverpool via Kirkby. Then up to Ormskirk, where I have a spare half hour and make a quick trip into town. It's hard to imagine the line from Ormskirk to Preston being busy with Scottish expresses going to and from Liverpool. It's now just a sleepy single track branch line, with a very infrequent service. Still there's plenty of room on the single bubble car train, unlike the 3-car class ?? Arriva Trains Wales train from Warrington to Chester, which is packed solid.


25/4/10 Chester to Manchester Piccadilly via Northwich. Manchester Victoria to Hebden Bridge. Hebden Bridge to Burnley Manchester Road.

My final day in the North West sees me going on another line which I haven't been on since the early 70's, namely the Mid-Cheshire line via Northwich. Although it is a slow train stopping at every station between Chester and Altrincham, it's an enjoyable journey with nice views of the Cheshire countryside. At Manchester Victoria I have a swift half in the buffet before going via Rochdale to Hebden Bridge, where I change trains for Burnley. Then it's back home to Essex via a coach.
---
May 2010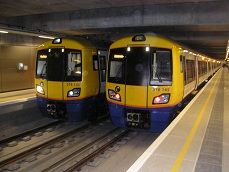 6/5/10 - Leigh-on-Sea to London Fenchurch Street and return. London Bridge to South Bermondsey. Surrey Quays to New Cross Gate. New Cross to Dalston Junction. Dalston Junction to Shoreditch. London Fenchurch Street to Leigh-on-Sea.

Decided to go on the newly opened section of the East London line as well as visiting Millwall's New Den football ground to take some pictures for my new website on football grounds. After visiting the New Den, I found my way (eventually to Surrey Quays station, where I caught my first London Overground train of the day to New Cross Gate. The plan was to walk to New Cross and take the train back all the way to Dalston Junction. The only problem was that I got my directions wrong!!! and ended up walking all the way to Queen's Road, Peckham!!! Luckily I was able to get a bus back along the road to New Cross station and then get my London Overground train. It's more like an underground line (as it originally was) with most of it being underground until you get to Shoreditch, where there is some impressive engineering structures. I particualarly liked the art work and illustrations in many of the stations shwoing old pictures of nearby buildings, which helps to give the line some character.

28/5/10 - Leigh-on-Sea to London Fenchurch Street and return.
---
June 2010
8/6/10 - Leigh-on-Sea to London Fenchurch Street and return. Essex Road to Moorgate.
A very quiet month for rail travel this month, the reason being busy decorating as putting my house on the market. So only one train journey into London and back again this month. My quietest period for over two years!
---
July 2010
7/7/10 - Leigh-on-Sea to Barking. London Liverpool Street to White Hart Lane. London Fenchurch Street to Leigh-on-Sea.
Travelling round London photographing the football grounds of West Ham, Tottenham Hotspur, QPR and Fulham for my new website on the 92 Football Grounds. At Shepherd's Bush I try to get an Overground train to West Brompton, but just miss one. It's a half hour wait till the next one, so reluctantly I take the tube instead. It's a pity they don't have a more frequent service on this line.


20/7/10 Leigh-on-Sea to West Ham and return. Woolwich Arsenal to Charlton. Charlton to London Bridge. London Bridge to Norwood Junction. Selhurst to East Croydon. East Croydon to Clapham Junction. Clapham Junction to Brentford. Brentford to London Waterloo. Stratford to Hackney Wick

A second day of visiting London football grounds. This time it's Charlton, Crystal Palace and Brentford. Surprisingly, I don't have to wait more than five minutes for trains, tubes or DLR trains on my expedition!
24/7/10 Rayleigh to Stratford and return.
Went on the train to the two day High Voltage music festival in Victoria Park, Hackney, changing at Stratford to get a Central line train to Mile End. Coming back was able to get the 23.22 from Stratford and be home just after midnight. For the second day I drove to Leytonstone and caught the tube from there. If the North London Line had been open on a Sunday, I might have gone via Hackney Wick instead.
26/7/10 Leigh-on-Sea to London Fenchurch Street. London Marylebone to Shrewsbury.
Almost a year to the day I am back on the Wrexham and Shropshire service going to Shrewsbury. Last year I did the whole of North Wales in a couple of days. This year I am hoping to do the whole of South Wales in three days, though I am not sure if I will fit all the Valley Lines in. As usual my £10 ticket has got me booked going backwards in a carriage that is very full. Instead I walk through to the next carriage, which is virtually empty and get a seat at a table facing forwards. The journey is fine and smooth.
27/7/10 Shrewsbury to Swansea via Llandridrod Wells. Swansea to Carmarthen. Carmarthen to Milford Haven and return.
I start the day with possibly one of the longest continuous train journeys I have ever been on, though it doesn't seem to drag that much. The train is 2 cars so there is plenty of room and it is easy to get a table. The scenery is similar to the Mid-Wales line, seeing as they are not that far apart. I'm glad that they have a refreshment trolley on this journey and I get cups of tea twice.
Originally I was going to get off at Llanelli and then get a train to Milford Haven and then go back to Swansea and then back to Carmarthen, where I am staying the night. Instead I go to Swansea, get a taxi and back to the Liberty stadium to buy a ticket for the match versus Preston which I will go to in a couple of week's time. I then was going to get a train from Swansea to Pembroke Dock and then back to Carmarthen, but decide instead to go to my hotel in Carmarthen first and leave my luggage there. I then get a later train to Milford Haven and back, so I am back in Carmarthen an hour and a half earlier than if I had gone to Pembroke Dock first and the back to Swansea. I will do the Pembroke Dock branch tomorrow instead.
On the way back from Milford Haven, which sadly doesn't really have a station as such - just a single platform with no shelter and a portacabin for a ticket office - I meet up with two friendly guys from Cheshire who are doing the same thing as me. We exchange stories of train journeys we have done and wish each other well.
28/7/10 Carmarthen to Pembroke Dock. Pembroke Dock to Whitland. Whitland to Fishguard Harbour. Fishguard Harbour to Cardiff Central. Cardiff Central to Barry Island and return. Cardiff Central to Radyr via Ninian Park. Radyr to Grangetown. Grangetown to Penarth. Penarth to Cardiff Queen Street.
Another busy day during which all connections work out fine. I start the day going to Pembroke Dock and back. A bit of a tedious journey, taking one and half hours from Carmarthen, including a fifteen minute break at Tenby, so trains can cross. I have nearly an hour's break in Pembroke Dock and make my way to the sea for a little while and then back via the main street shops. It's bigger and older than I thought, but out on a limb.
I then get off at Whitland and have another half hour to wait before catching the "boat train" to Fishguard Harbour. There's a family of four doing the same as me, just to travel on this once a day service - well once at night as well about 2 o'clock in the morning - plus a lone male catching the ferry to Ireland. As expected the train, a 2-car Class 150 DMU is pretty packed, so I expect the same at Fishguard, but the return passengers only fill up a quarter of the train. You can still see the remains of Goodwick station still intact about a mile before Fishguard Harbour station. It's a pity they don't have some more services stopping here as I'm sure many more day trippers would could to Fishguard for the day if they could. Instead it's just a quick 15 minute turnaround, before speeding back to Cardiff.
Considering that it takes 2 ½ hours to get back to Cardiff, the train doesn't go slow at all, apart from an exchange of token at Clarbeston Road signal box. It stops at Whitland, Carmarthen and Llanelli, before avoiding Swansea altogether, via the Swansea District line which was a first for me. Nice to see Port Talbot and Margam for the first time since 1970!
We arrive in Cardiff about ten minutes early, so I jump onto a Barry Island train, which is packed. What a shame about the station. Just a single platform, though four platforms and footbridge are still in place. I walk to the seafront and when I get back to the station, there are even more day trippers waiting. Luckily there's four carriages, on the train back, so there's plenty of room for everyone.
I then decide to leave going back down to Penarth, but instead wait fifteen minutes for the City Line train to Radyr, via Ninian Park. It's full of commuters to begin with, but empty by the time we arrive at Radyr, a few minutes early. I rush over the bridge and catch a return train to Cardiff via Llandaff all the way to Grangetown. I then make the journey to Penarth and back, before calling it a very long day!
29/7/10 Cardiff Queen Street to Coryton and return. Cardiff Central to Newport. Newport to Weston Super Mare. Weston Super Mare to Bridgwater and return. Weston-Super-Mare to London Paddington. London Fenchurch Street to Leigh-on-Sea.
After a night out in Cardiff with an old friend and disturbed sleep from the trains beneath my hotel window - how ironic! - I really wasn't in a fit state for doing the Valley Lines. So I decided to leave them for another time. I did go on the short line to Coryton before going over to Bristol and then Weston-Super-Mare to do that little bit of line between Bristol and Taunton. I went over on a very smelly and hot Class 150 to Weston-Super-Mare before having a quick look round the seaside resort.
I was expecting to see another FGR Class 150 unit for the journey from Weston Super Mare to Bridgwater. Instead it was a rake of four mark 3 carriages hauled by Class 67 017 and on the back Class 67 029. The train wasn't that full either, but in between Highbridge and Bridgwater the train made three stops at red lights where the driver got out and rang ahead. So we were fifteen minutes late arriving at Bridgwater.
I was expecting the train to be late returning from Taunton, but it was only 5 minutes late and arriving back at Weston, I had a choice of staying on it all the way to Bristol, or getting on my London train at Weston. I chose the latter, not only because the mark 3 carriage I was in was really hot and stuffy, but also to avoid the crush at Bristol Temple Meads.
It was the right decision as I was able to get a table seat in the train that was really quite empty. At Bristol it was mayhem and a scrum of commuters returning to Bath, Chippenham and Swindon. By the time it stopped at Didcot it was less than half full, but at Reading a second swathe of commuters jumped on and so it was almost as full as from Bristol. As with several trains I have been on from the west into Paddington it was about ten minutes late.
---
August 2010
15/8/10 Toddington to Gotherington, Gotherington to Winchcombe, Winchcombe to Gotherington, Gotherington to almost Toddington, almost Toddington to Winchcombe, Winchcombe to Toddington
On holiday with my wife and usually I make the effort to go on a Preserved Line. As we are staying in both Worcester and Hereford I look at the possibility of going on the Severn Valley Railway at nearby Kidderminster. As I have already been on that, I opt for the Gloucestershire and Warwickshire Railway, or as they call it the GWR. I'm not sure how they can get away with calling it that, especially as none of the railway is actually Warwickshire...yet.
Anyway, a bad choice as you will see if you read on. I'd vaguely read about a landslip in Railway Magazine, but didn't realise it was on this line. So when we went to buy our tickets, there was a notice giving details of "the amended timetable". This meant going as far as Gotherington and then back to Winchcombe, then back to Gotherington before coming all the way back to Toddington. We would be steam hauled by with Class 47, 47376 on the back.
The journey went quite well to begin with. It was a typical summer's day with lovely scenery and a feeling of going back in time. Yet on the final leg back to Toddington the Class 47 failed. It had already shown signs of packing up on the first return from Gotherington. So there were all these men running up and down the tack on their mobiles deliberating about what to do.
In the end the steam engine pulled the train aback to Winchcombe, where it uncoupled and then went to the front. It then pulled the 47 off the front of the train and pushed it onto the other track in the station, before going back to the front of the train and pulling it back first to Toddington. It all seemed like a scene from a Thomas the Tank Engine story! I got the impression it was a group of grown men pretending to be boys playing with their train sets. This was because when we finally made it back to Toddington, another Class 47 was waiting to go back up the line to Winchcombe to pick up the failed 47. Why you may ask didn't this 47 come out and couple up with the broken down 47 and take it back to Toddington in the first place??!!! Much simpler and would have saved us all so much wasted time. In the end we arrived back in Toddington well over an hour later than scheduled and the train behind us was also seriously delayed!!!!
16/8/10 Bristol Temple Meads to Severn Beach and return.
As we were in Bristol and it's one of the few branch lines in the Western Region I haven't travelled on yet, I took the opportunity of riding this branch line, whilst my wife went shopping in Bristol. At present trains only run every two hours all the way to Severn Beach, but there is a more frequent hourly service to Avonmouth. This is better than a couple of years ago when they had just a bus service between Avonmouth and Severn Beach during the day.I was presently surprised just how well patronised this line was, even to Severn beach where around ten passengers travelled to, and a similar number where waiting to get on. They've also painted some interesting and colourful murals at some of the stations on the route to counteract graffiti.
The following day driving back to Essex, we stopped off in Swindon for a visit to the old Swindon works, where the STEAM museum has been built. I was quite impressed with the attention to detail they have made with with sound effects and smells all designed to recreate the atmosphere of working there last century. My only criticism was that there was nothing about all the diesel hydraulics built (and scrapped) at Swindon. I know it's called steam, but surely this is just a part of SwIndon Works history as the building of the Castles and other GWR locos. In fact the only Westerns and Warships I saw were on film in the holidays to the West Country section. Why not get a Western or a Warship or a Hymek on display there, even if on loan from another railway establishment? There was meant to be a Class 50 on display on loan fom somewhere, but I didn't see any sign of it.
23/8/10 Leigh-on-Sea to London Fenchurch Street. London Euston to Crewe. Crewe to Manchester Piccadilly. Manchester Piccadilly to Oxford Road and return. Manchester Piccadilly to Ashburys
I caught the 12.40 train from Euston, a Virgin train of course, named "Penny The Pendelino". Not a very original name I thought. For those reading this who don't know what a Pendelino train is, they are the trains that twist and turn whenever the track direction changes. It's a bit like a roller coaster ride but going left and right, rather than up and down. The reason I'm telling you all this is that for some reason – whether it was because I had just had my lunch, or was pretty tired – but the time we reached Milton Keynes, I was feeling decidedly queasy! Now I've travelled on Virgin Pendelino trains lots of times before, but have never felt this bad. I just curled up and slept for a bit, but by the time we got to Crewe, the first stop I just had to get off that train.I only had twenty minuted to wait till the next one to Manchester came in, time enough to pop out of the station and take some piccys of Crewe's Gresty Road ground. The bit of fresh air, coupled with my feet on terra firma did me good, so that on the train to Manchester I was fine.After checking into my hotel which was not far from the centre, I caught a train to Ashburys, the nearest railway station to Eastfields, cost just £1.20 return. Although Eastfields looks pretty close from the railway line, it actually took me a good fifteen minutes to walk it from the station, plus on the way it started to rain, as you would expect in Manchester.
24/8/10 Manchester Piccadilly to Wolverhampton. Birmingham New Street to Aston. Aston to Bescot Stadium. Bescot Stadium to Wilton. Wilton to Birmingham New Street. Birmingham New Street to Longbridge. Longbridge to Redditch.
Returning from Manchester to Essex, I had arranged to return via Birmingham because a) it was cheaper than going direct via Nuneaton, b) It gave some time to visit some of the west Midlands football grounds, and b) Southend were drawn against Wolves in the 2ndround of the Carling Cup and I made a slight change to my travelling plans to fit this match into my schedule. Luckily the train I caught to Wolverhampton was a Cross Country train, so no travel sickness today. I got to Wolverhampton soon after 11, so walked to Molyneux to take some photos, before catching the West Midlands Metro tram from Wolverhampton to The Hawthorns. I then visited West Brom's ground for more pictures, before catching another tram into Birmingham and then going onto visit Walsall and Aston Villa's grounds. I then went onto Redditch where I staying at friends. I bought a West Midlands rover ticket on the tram for just £5.20 which allowed me unlimited travel on trains, trams and buses in the West Midlands area. The only problem wa sthat it only went as far as Longbridge. Being an honest citizen I paid £3.60 at Longbridge for a single to Redditch. Good job I did as a guard checked our tickets soon after we left Longbridge!
30/8/10 Leigh-on-Sea to London Fenchurch Street and return. London Waterloo to Norbiton and return.
Went to see AFC Wimbledon vs Newport County at their ground in Kingston-Upon-Thames. A two all score draw with over 3,000 attending.
---
September 2010
6/9/10 Leigh-on-Sea to London Fenchurch Street and return. London Paddington to Ealing.
Had to go to Ealing with my work. Went by train there, but came back to central London by tube.
22/9/10 Rayleigh to London Liverpool Street and return
Went up to London for a meeting, choosing to go from Rayleigh rather than leigh-on-Sea for a change.
Apart from these two journeys, another quiet month for me railwaywise with house buying/selling still going on.
---
October 2010
6/10/10 - Leigh-on-Sea to London Fenchurch Street. London Fenchurch Street to East Ham depot. Barking to Leigh-on-Sea.
Went on a unique visit to the East Ham depot where the Electrostar Class 357 units are maintained and serviced courtesy of the South East Essex Railway Society. Thanks to Peter Seers of SEERS for organising it and Brian Lee for showing us round.
9/10/10 Leigh-on-Sea to London Fenchurch Street and return. London St Pancras to Chesterfield and return.
Off to see Southend United play at Chesterfield's new ground the B2net Stadium. For a change there's no Underground works going on this weekend - that affect me at least. When I get to St Pancras, there's an announcement to say that my train, the 10.55 to Sheffield has been delayed and is not due in until three minutes after it is due to leave. In fact it gets in about 10.50, but they don't let anyone onto the platform until it has emptied. This takes well over five minutes and it's a mad scramble to get onto the train which eventually leaves five minutes later.
Come to think of it, this is at least the third time this has happened when I've gone on East Midlands trains from St Pancras, so maybe there is some sort of fault with the present system. Certainly in my humble opinion four platforms are not enough for the Midland mainline trains. A fact is borne out by another 222 waiting to come into our platform when we pull out of St Pancras. At least it means that there are no seat reservations on this train, so I get a table seat by the window.
20/10/10 Colchester to Norwich and return.

My train to Norwich was about wtenty minutes late due to a "tresspasser" on the line in the Ingatestone area.
22/10/10 Leigh-on-Sea to Fenchurch Street and return.
Went up to London for the evening for a gig. Got the penulatimate train home from Fenhurch Street just after midnight. Interesting to note that it had a security guard on board, though there were no problems apart from someone being sick further down my carriage!
25/10/10 Leigh-on-Sea to Fenchurch Street and return.

Back to London again for a meeting this time.
---
November 2010
6/11/10 Leigh-on-Sea to Upminster and return.
Went to the Dagenham vs Orient FA Cup first round match. The train coming back from Upminster was packed as only four carriages were used.
15/11/10 Leigh-on-Sea to London Fenchurch Street and return. London Bridge to East Croydon and return. East Croydon to Three Bridges and return. Three Bridges to Crawley and return.
Had to make a trip to both Croydon and Crawley with my work. It was fine getting into London and out to Croydon, but then I had trouble on the way to and from Crawley. I caught the 12.13 Portsmouth Harbour train at East Croydon which was fine as far as Gatwick Airport then it was stop and start to Three Bridges. At Three Bridges the driver announced that a lorry had hit a bridge further down the line and we would have to wait while the bridge was being inspected. Five minutes later he announced that the train would be going non-stop to Barnham, (presumably via Hove) and so passengers for Crawley and Horsham should get off the train and take another one! We didn't have to wait long and so I got to Crawley about ten minutes later than scheduled.
Coming back I got a train from Crawley which was stopping all the way along the line as far as East Croydon, so I mistakenly got off at Three Bridges, thinking I could get a faster train here. I wondered why everyone stayed on the train though and soon got an answer! All the Thames Link trains were rushing through the station. So if I'd stayed on one further stop to Gatwick Airport I would have been much quicker!
17/11/10 Leigh-on-Sea to London Fenchurch Street and return.
Went up to London in the afternoon for a meeting.
19/11/10 Leigh-on-Sea to London Fenchurch Street. London Euston to Preston. Preston to Blackpool North
On my way to Blackpool to see Blackpool play Wolves tomorrow, with my railway friend Mark, who's also a frequent first class traveller with Virgin. So we go first class on the 16.57 Euston to Glasgow as far as Preston. We get free drinks and dinner which consists of Beef Bourguignon with mashed potatoes, followed by cheese and biscuits and more drinks. This is the life! I'm pleased to say that after feeling sick last time I travelled on a Pendelino from Euston back in August, this time I was fine! We got to Preston on time after stopping at Lichfield to let off about 50 commuter types. The first train out of Preston to Blackpool was a slow and decrepit single Pacer unit. We let that one go, which was naturally packed and waited less than ten minutes for a much nicer Class 158 Express which only made one stop on the way, Funny timetabling by Northern Trains. You would think they would let the faster train go first, followed by the slower, stopping train. But no it was the other way round!
20/11/10 Blackpool South to Preston. Preston to Crewe. Crewe to London Euston. London Fenchurch Street to Leigh-on-Sea
We were going to leave from Blackpool North after the match, but as it is quiet a way from Blackpool's Bloomfield Road football ground, we chose to leave the game early and get a slower train from Blackpool South, which is quite near to the ground. One other Wolves fan had the same idea as us. We then got to Preston much earlier than expected, so enjoyed a pint in Preston's nice buffet bar. The Virgin Train we got from Preston was going to Birmingham, so it meant changing at Crewe. There's no hot meals at weekends so the steward gave us free coffee, crisps and biscuits instead. We had a good half hour wait at Crewe, so we popped out of the station and walked into the town centre where there were a whole host of take aways. Mark had a Chinese, whilst I got a pizza, which we ate in the first class carriage, much to the chagrin of the steward! Train was a little late getting back to Euston. Eventually got back to Leigh-on-Sea around 11.00pm.

---
December 2010
10/12/10 - Leigh-on-Sea to London Fenchurch Street and return
Went up to a concert at the Royal Festival hall in London.
13/12/10 - Leigh-on-Sea to London Fenchurch Street. London Marylebone to West Ruislip. South Ruislip to High Wycombe. High Wycombe to London Marylebone.
Went up to High Wycombe on business. As I had a travelcard went on one train to West Ruisilip to pay for my ticket beyon that, but as there was a gap of an hour before the next train, got the tube back two stops to South Ruislip where I got the next train to High Wycombe!
18/12/10 - Leigh-on-Sea to Barking. Barking to West Ham. West Ham to Leigh-on-Sea via Ockenden.
Went to see Simply red at the O2. Getting there took quite a bit of time due to the fresh fall of snow in London and the South east. The train i got was 45 minutes late and then terminated at Barking. Coming back the trains were more or less running back on time, but we just missed a direct Southend train at West Ham, so got the slower train via Ockenden and Grays rather than wait thirty minutes at a freezing West Ham station, which doesn't have any waiting rooms.
20/12/10 - Leigh-on-Sea to Shoeburyness and return
Had to see someone in Shoeburyness, so easier to take the train, rather than drive with all the snow about. Also, it was a very picturesque view from the train with all the snow about.
30/12/10 - Leigh-on-Sea to London Fenchurch Street and return
Went up to London to see one of the final shows of the Railway Children at Waterloo station. It was interesting going into the old Eurostar terminal where the production took place, with all the bilingual signs. I thought it would be quite cold sitting in a dsicused railway station, but it was quite the opposite. The onlt downside was that there was not enough leg-room - worse than at Luton Town! I kept wondering when the actual locomotive was going to appear. Eventually it appeared right at the end of the forst half and then again at the end of the second half. Not actually in steam of course, but it was a pity they didn't use it more. I just hope this part of Waterloo station isn't left to rot for a few more years and that the powers that be will use it in some way.
---