Home
The Branch Line Britain Website gives information about Britain's railway branch lines, plus many other minor railway lines in Britain. Each railway line featured gives details of the line and its history, its stations, nearby places of interest and reviews of journeys on the line. Quite often it is the main routes of Britain's railway lines that get all the publicity. This website aims to give the minor lines their moment of glory! This site is not just for railway enthusiasts or those who work on the railways though, but also for anyone interested in railways as well as parents/grandparents looking for a different day out by train.
The lines have been grouped into the old British Rail regions for ease of navigation. Over eighty different lines are included.
Help wanted! We are always looking for contributions of photos, reviews and written memories of the lines featured on this website. If you would like to do contribute in this way please read our submission guidelines.
PLEASE NOTE: ALL TEXT AND PHOTOS (UNLESS INDICATED) ARE THE COPYRIGHT OF BRANCH LINE BRITAIN AND MY NOT BE USED IN ANY FORM WHATSOEVER WITHOUT WRITTEN PREMISSION FROM BRANCH LINE BRITAIN - ANY MISUSE OF OUR COPYRIGHT WILL RESULT IN LEGAL ACTION
---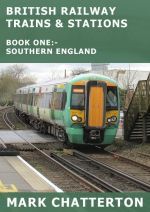 A BRAND NEW E BOOK BY THE WEBMASTER OF THIS WEBSITE HAS JUST BEEN PUBLISHED - IT IS CALLED:-

BRITISH RAILWAY TRAINS AND STATIONS - BOOK ONE - SOUTHERN ENGLAND

This is the first book in the series, "British Railway Trains & Stations" and covers Southern England. It looks at fifteen different stations in the south of England, plus the various trains that pass through these stations. Stations included are: Southampton Central, Brighton, East Grinstead, Lewes, Ashford International and Guildford.
It is 40 pages in length and has over thirty colour photos.
PLEASE NOTE THIS IS AN E-BOOK AND NOT A PRINTED BOOK. It can be downloaded to your PC, Kindle or Tablet/Smart Phone. It is avaiable in three different e-book formats.
It is also available from Hadleigh Books, Amazon and the I-Tunes book shop

PRICE - JUST £2.99 - TO FIND OUT MORE ABOUT THIS BOOK OR TO BUY IT SIMPLY PRESS ON THE IMAGE ABOVE
---
LATEST UPDATES - 2016 Blog page updated to include November and December 2016
---